World
10-year-old boy killed in Kharkiv was asleep when missile hit, Ukraine says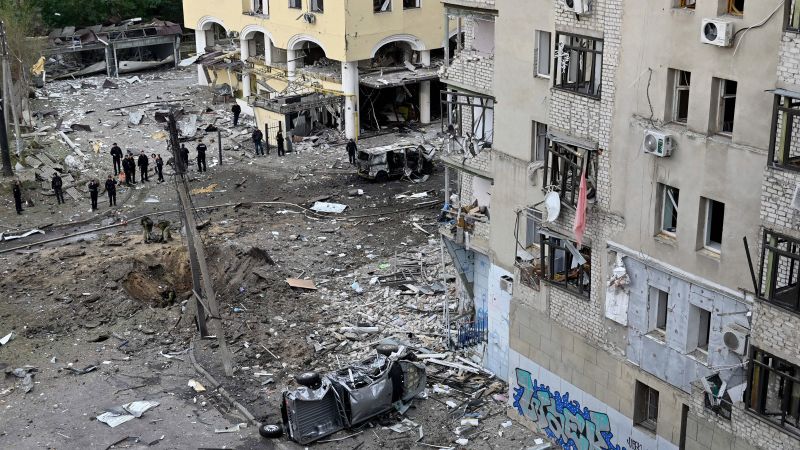 Title: Tragic Loss in Kharkiv: 10-Year-Old Boy Among Victims in Russian Strike
Kharkiv, Ukraine – In a heart-wrenching incident, a 10-year-old boy tragically lost his life when a Russian strike hit the city of Kharkiv. The devastating attack took place while the young boy was peacefully asleep, leaving the nation in mourning for the innocent lives lost.
The Ukrainian Defense Ministry shared a devastating image that captured the true horrors of war. Wrapped in a blue blanket, the lifeless body of the young boy lay amidst the rubble, illustrating the immense destruction caused by the strike.
Reports indicate that the Russian Iskander ballistic missile was responsible for the devastating attack on Kharkiv. In addition to the young boy, his grandmother sadly lost her life, while his younger brother was among the 30 others injured in the relentless assault.
Upon learning of the tragedy, Ukrainian President Volodymyr Zelensky expressed his deepest condolences, extending support to the grieving family. He revealed that the boy's parents and brother were currently receiving medical treatment in the hospital, highlighting the urgent need to address the ongoing conflict.
This heartbreaking incident further highlights the grim reality of Russia's full-scale invasion in Ukraine. Shockingly, it marks one of more than 500 instances where children have lost their lives as a result of such attacks. The widespread loss of innocent lives continues to strike at the very core of humanity, reminding the world of the urgent need for intervention.
Prior to the strike on Kharkiv, the village of Hroza was the target of a devastating missile attack. These relentless strikes have not gone unnoticed by the international community. Ukrainian Foreign Minister made a strong plea, denouncing the strikes as "atrocities" and emphasizing the crucial importance of sustained and increased global support for Ukraine during this challenging time.
In response to the accusations, Russia maintains that it does not target civilian populations. However, the escalating death toll and the mounting evidence on the ground cast a dark shadow on these claims. The international community must confront the situation and ensure accountability for the loss of innocent lives.
As the world watches the ongoing conflict in Ukraine, the tragic death of a young boy in Kharkiv stands as a haunting reminder of the urgency to end the violence and bring stability to the region. The News Teller extends its deepest sympathies to the affected families and hopes for swift action to put an end to the suffering endured by the people of Ukraine.
"Infuriatingly humble social media ninja. Devoted travel junkie. Student. Avid internet lover."