Sports
Game Highlights: Davis and Russell Shine as Lakers Outplay the Magic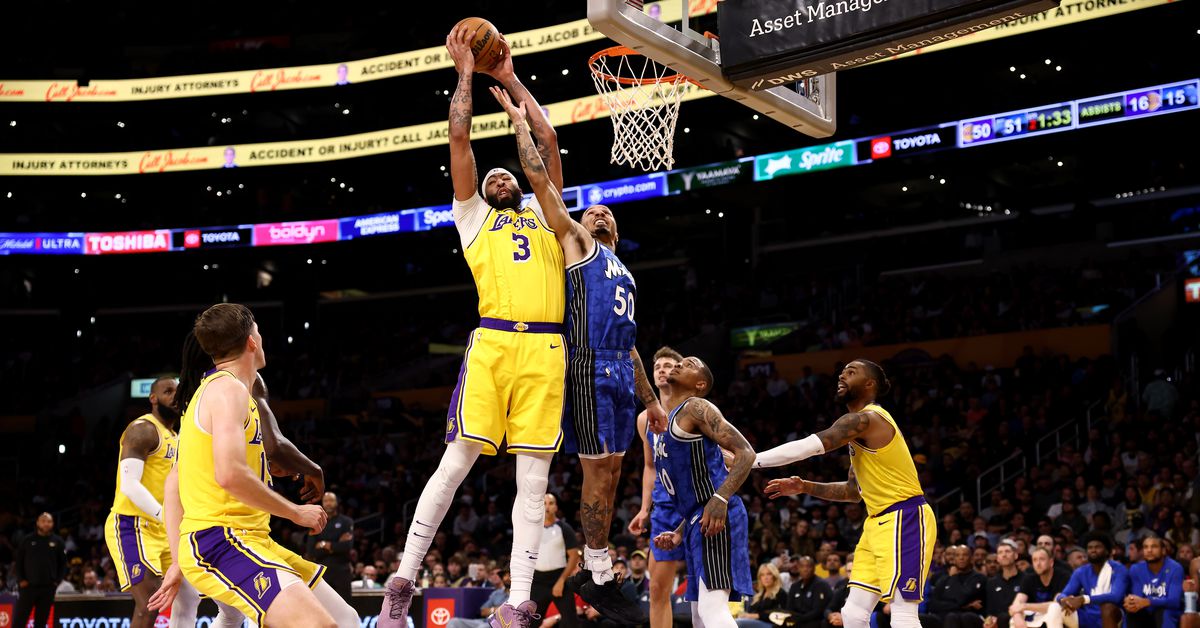 Title: Lakers Secure Close Win Against Orlando Magic in Nail-biter Game
The Los Angeles Lakers clinched a hard-fought victory over the Orlando Magic last night, with a final score of 106-103. The game kept fans on the edge of their seats as the Lakers showcased their resilience and ability to secure crucial late-game stops.
Once again, Anthony Davis proved to be a dominant force on the court, leading the Lakers with an impressive 26 points and an astonishing 19 rebounds. Davis continues to assert his presence as a key player for the Lakers this season.
D'Angelo Russell also had a standout performance, contributing 28 points on an impressive 10-14 shooting. His sharp shooting accuracy played a vital role in maintaining the Lakers' momentum throughout the game.
On the other hand, LeBron James struggled with his shooting accuracy, finishing the game with 19 points on 17 shots. Despite his off night, James remained a pivotal presence on the court, assisting his teammates and contributing to the Lakers' victory.
One of the defining factors that kept the game close was the Lakers' turnovers and their lack of 3-pointers and second-chance points. The Orlando Magic capitalized on these mistakes, converting the Lakers' turnovers into 20 points and making 14 successful 3-pointers, compared to the Lakers' eight.
The Lakers started the game strong, but a remarkable 17-4 run by the Orlando Magic allowed them to take the lead at halftime. However, the Lakers managed to regain the lead during the third quarter, although they struggled with turnovers.
In the crucial moments of the game, late baskets from Anthony Davis and LeBron James helped the Lakers regain a narrow lead. However, Jalen Suggs and Russell traded 3-pointers to keep the Lakers ahead, making every possession a nail-biting experience for fans.
In the end, the Lakers held on to secure their second victory of the season, thanks to a crucial stop from Davis and crucial free throws from Russell. The Lakers' ability to make big plays in clutch moments proved to be the difference-maker in this close matchup.
Despite their better shooting performance, turnovers and Orlando's proficiency from beyond the arc posed challenges for the Lakers. They will need to address these issues moving forward if they hope to continue their success throughout the season.
Looking ahead, the Lakers face another tough challenge as they take on the Los Angeles Clippers in their upcoming game. Tip-off is scheduled for 7 p.m. PT and will be televised on ESPN, guaranteeing an exciting matchup for basketball enthusiasts.
In conclusion, the Lakers' close victory over the Orlando Magic showcased their resilience and ability to fight until the final whistle. The team's star players, Anthony Davis and D'Angelo Russell, played significant roles in securing the win. However, the Lakers must address their turnover issues and improve their 3-point shooting as they face the formidable Clippers in their next game.
"Infuriatingly humble social media ninja. Devoted travel junkie. Student. Avid internet lover."