Tech
WhatsApp: the new interface has arrived | Space increases, contacts change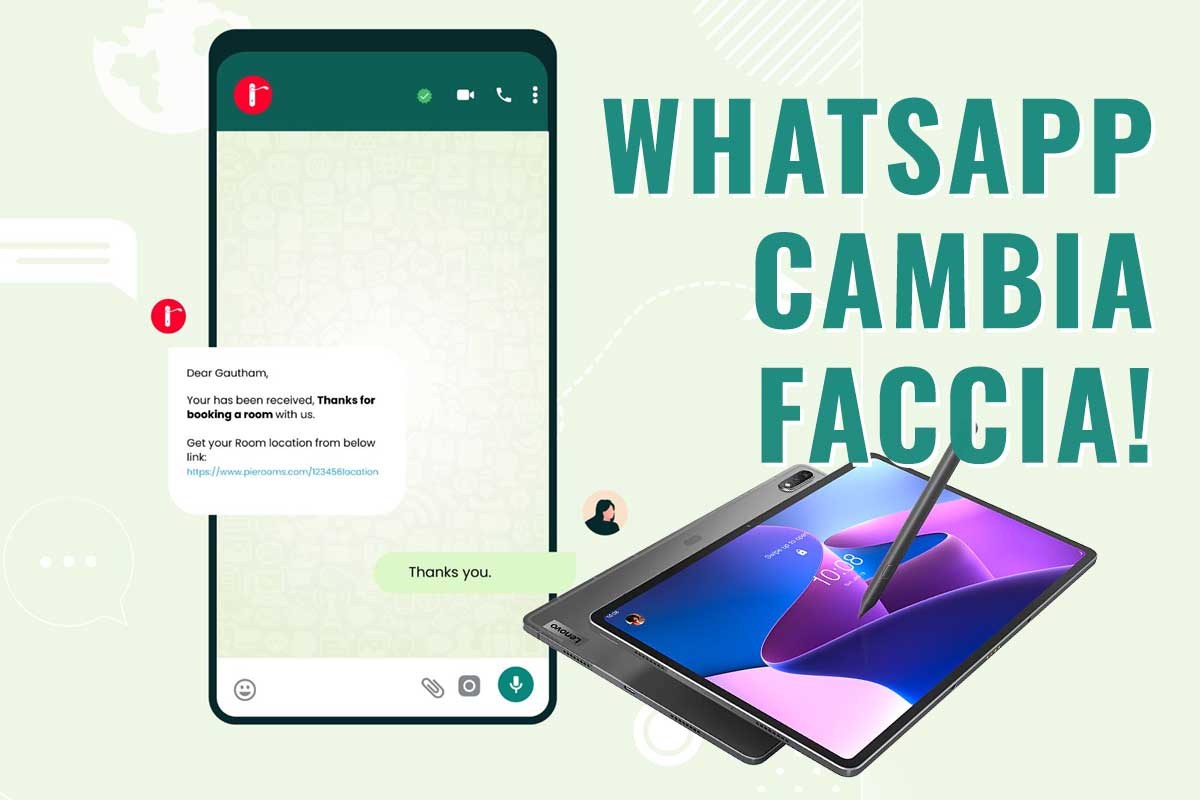 For several years now, technology has made great strides, making possible procedures that until recently were unimaginable. One sector above all, that of interpersonal communications, has had more luck, as it has been able to obtain improvements that have completely changed the use of traditional means of communication by users. The advent of the Internet was the real step forward.
WhatsApp has been renewed
who was born and raised late 1990s and early 2000she was able to witness firsthand the massive revolution he represented Internet. Indeed, until not so long ago, communication was an activity that, in addition to time and patience, required significant expenses.
Just think of the means mobile phone companies have made available to young people: SMS and MMS. It was about interpersonal communication methods that demanded specific expense For each individual message, making the decision to send a message is something to think about carefully. The risk was to prolong the discussions as long as the credit was running out.
But now things are very different. WhatsApp was born in 2009.
The instant messaging service is the brainchild of former IT company employees Hey ho The goal seems clear from the outset: to create Free replacement to SMS and MMS. And given where we got, we can say that the result has been achieved.
WhatsApp so far it is The largest instant messaging service in the worldContact management More than 3 billion users spread all over the world. These numbers are the result of the constant developments and innovations that developers have subjected WhatsApp to over the years, also thanks toThe acquisition made by Meta in 2014.
As of now, WhatsApp is no longer just a shy service for sending text messages, greeting friends and relatives, or sending strings of Christmas wishes to unfortunate contacts in the address book. WhatsApp now real call center, Where each communication method is implemented to some extent.
Just think of how much WhatsApp has pushed lately on two functions in particular: Voice calls and video calls. In fact, after the latest updates, it has become possible to make voice calls or video calls With 32 participants at the same time. This choice made WhatsApp a useful tool for organizing and managing remote work, as well as simple communication with friends and relatives.
Then we think about the groups and their amount WhatsApp Team Try to make management easier, with functions that have already been introduced or will be introduced soon, such as the "Group Call Scheduling" function, which allows optimal management of commitments for all group participants.
But other than the features, WhatsApp wants users to breathe Novelty from the first impact. This is the proposed solution.
WhatsApp changes the interface on tablets
It is known that many use WhatsApp directly from their mobile phone, thanks to the ease with which it manages all the functions. Of course, for many it is now desktop tool Thanks implement whatsapp web, Available directly from your computer.
But in view of the updates discussed above, in many They seek ease of dealing A mobile phone with the wide view offered by a computer screen. The middle ground is often found in tablets It is precisely in this direction that he is moving Latest beta update from WhatsApp.
In the latest beta version of the app for Android devices actually, user interface has been updated, Until it becomes better to fall back on devices with large screens such as tablets.
The new interface design looks clearer and with larger icons.
It has also been increased the distance between one symbol and another, Reduce the risk of pressing the wrong icon. And again with regard to icons, the arrangement of the different sections of the application has been improved, so that access to chats, contacts and settings becomes easier and faster.
particularly:
there Read hadiths Improved with a change in the chat screen. chat list It will now appear to the left of the screen, in a smaller column, leaving more room on the right for reading View a single conversation (Following the WhatsApp Web template).
Contacts screen They will be displayed in a larger grid, with larger icons and larger spaces between icons.
Settings From now on, they will be displayed in a column to the left of the tablet screen while the selected options will appear to the right of the screen.
It is not clear yet When will we be able to see these innovations in action. The functionality is currently being tested in the latest beta version and is only available to a few users who, however, say they are satisfied with the graphic display on the tablets. with tWhatsApp eams Who continues to work constantly on new features, it won't be long before we see it in action, however, let's stay tuned to stay tuned. Player. it.
"Bacon trailblazer. Certified coffee maven. Zombie lover. Tv specialist. Freelance communicator."