Sports
Top Signs from Colorado vs. Colorado State Game: The News Teller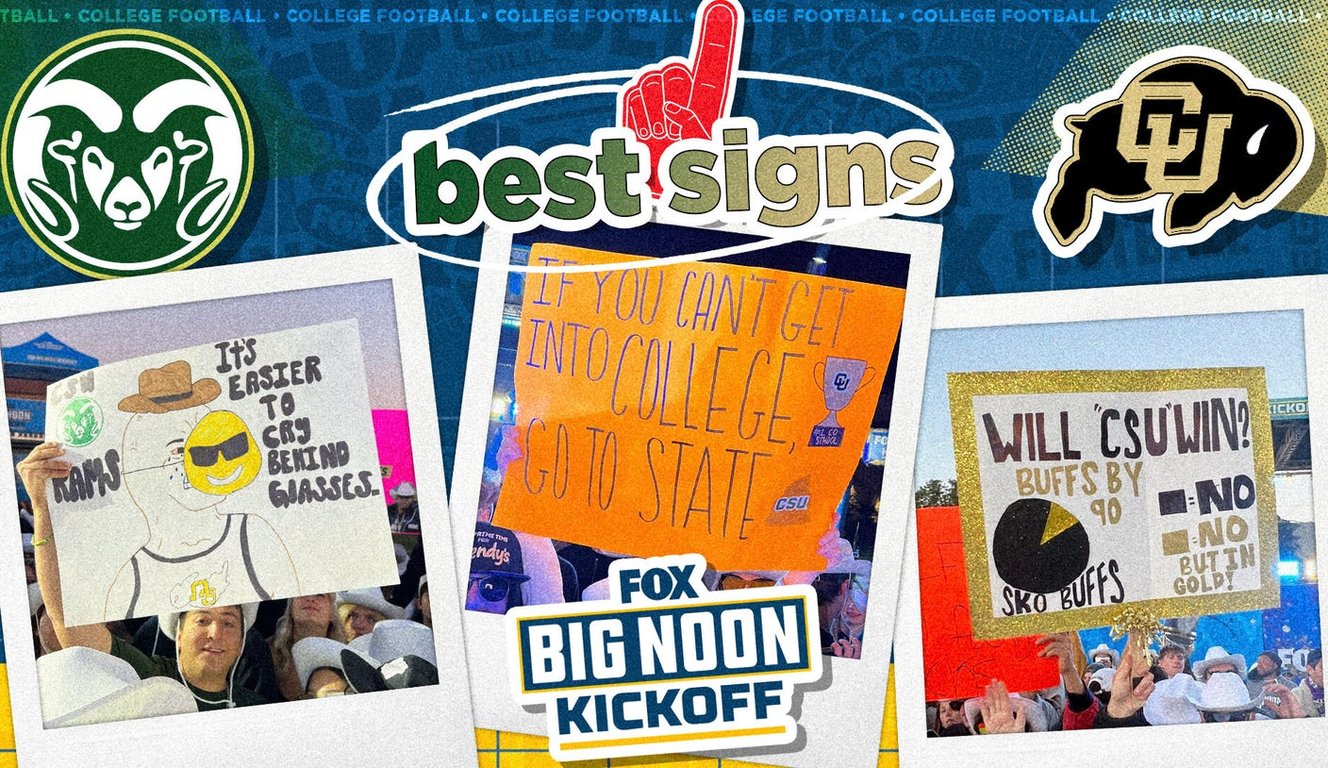 Colorado fans showcased their creativity and wit at the recent 'Big Noon Kickoff' in Boulder, bringing their A-Game with incredible signs that left no stone unturned. The event, which featured star-studded guest appearances and aimed to promote the upcoming college football season, became a platform for fans to troll their rivals and pay homage to their favorite personalities.
One of the most talked-about signs took a dig at Colorado State, targeting provocative comments made by Rams head coach Jay Norvell about Deion Sanders' attire. The sign cleverly referenced Norvell's controversial remarks, displaying the message, "Hey Norvell, Deion looks good! What's your excuse?"
In addition to their playful jabs at Colorado State, the signs also acknowledged the star-studded cast of guest appearances on the show. Football legend Rob Gronkowski, rapper Lil' Wayne, and Deion Sanders himself made appearances that had fans ecstatic. Several signs paid tribute to these icons, with one sign capturing attention by declaring, "Gronk, Lil' Wayne, and Prime time in Boulder! We've hit the jackpot!"
However, it was one sign in particular that stole the show and earned its maker a $1,000 prize. The sign called for "Prime Hunting Season" and featured a fake taxidermized Ram head in an ornate frame. This elaborate display of fandom caught the attention of the event organizers, who recognized the creativity and awarded the lucky sign-maker.
But the creativity didn't stop there. Several other standout signs were seen at the 'Big Noon Kickoff' in Boulder. One sign humorously read, "Colorado State can't touch this!" accompanied by an image of a crossed-out Rams logo. Another sign paid tribute to Deion Sanders, declaring, "Prime Time is our time!"
The 'Big Noon Kickoff' in Boulder provided an opportunity for Colorado fans to express their passion for the game and show off their wit and creativity through eye-catching signs. With references to rivalries, controversial remarks, and celebrity appearances, the fans proved that they were ready for the upcoming college football season. As the event unfolded, fans proudly displayed their signs, sharing their love for the game and their state with the world.
"Introvert. Avid gamer. Wannabe beer advocate. Subtly charming zombie junkie. Social media trailblazer. Web scholar."