Business
The News Teller: Live updates on Dows 300-point drop and concerns over future Fed rate hikes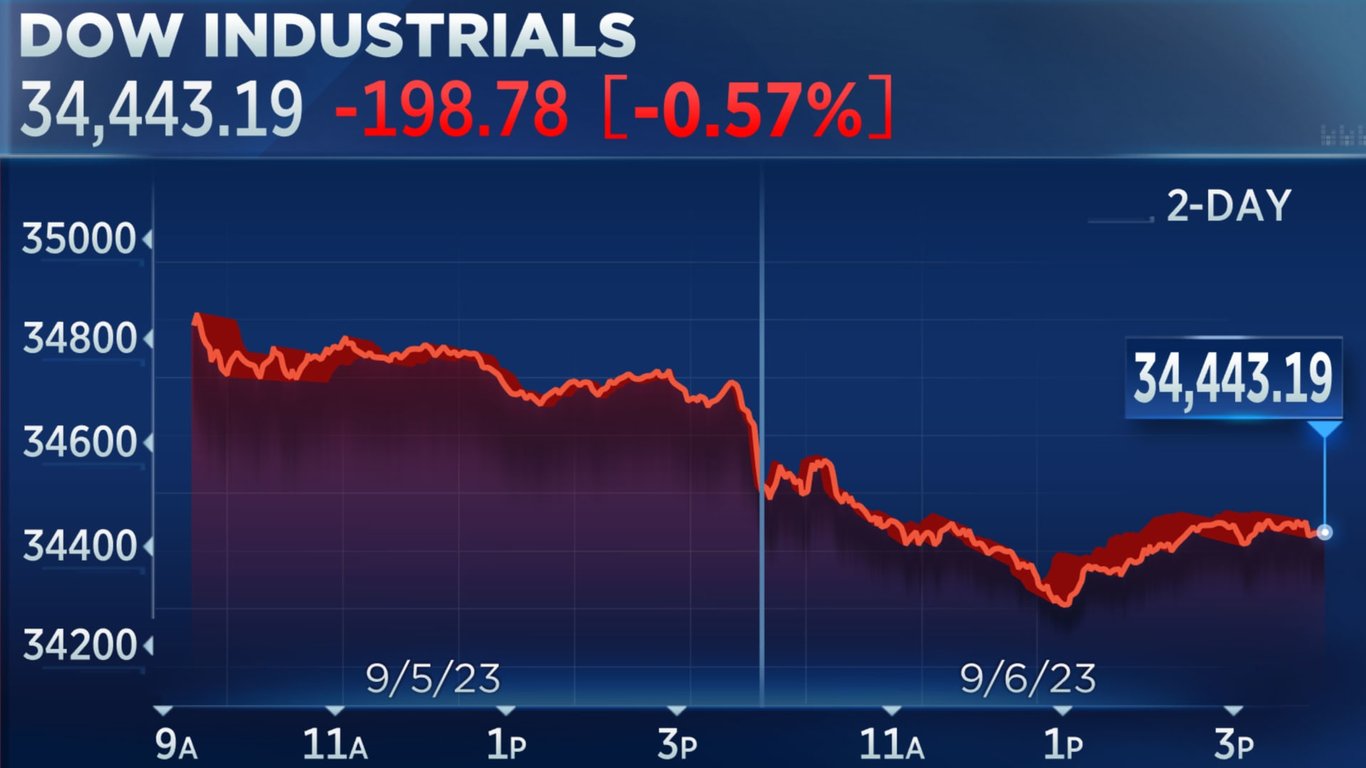 Title: Stock Market Faces Sell-Off Amid Rate Hike Concerns
Subtitle: A pullback in technology stocks and rising interest rate fears shake investor confidence
In a recent tumultuous trading session, US stocks experienced a sell-off as concerns about potential interest rate hikes by the Federal Reserve rattled investors. The Dow Jones Industrial Average dropped 198.78 points, or 0.57%, closing at 34,443.19, while the S&P 500 fell 0.7% to finish at 4,465.48. The Nasdaq Composite took the heaviest hit, declining 1.06% to close at 13,872.47.
Leading the downward trend were technology stocks, with industry giants Nvidia and Apple recording losses of more than 3% each. This decline weighed heavily on the market, adding to the negative sentiment. Alongside, Amgen and Boeing also fell around 2%, contributing to the overall market downturn.
Compounding the sell-off, stronger-than-expected economic data led to a rise in Treasury yields, increasing concerns about further rate hikes. Recent readings on the US services and manufacturing sectors showed prices moving in an unfavorable direction, intensifying fears of an interest rate increase. The prices component of the ISM services index rose to 58.9% in August, indicating an increase in the share of companies reporting price increases. Similarly, the prices component of the ISM manufacturing index jumped to 48.4%, erasing signs of contraction seen in previous periods.
Market traders are now pricing in a greater than 40% probability of a rate hike in November, as suggested by the CME Group. The latest Beige Book from the Federal Reserve indicated modest economic growth during July and August, along with signs of slowing price growth. However, Boston Fed President Susan Collins emphasized that the central bank would approach rate hikes cautiously, taking into account the incoming data.
The stock market sell-off demonstrates the impact that concerns surrounding interest rate hikes can have on investor confidence. The market's reaction to the prospect of higher borrowing costs reflects the delicate balancing act the Federal Reserve faces in supporting economic growth while controlling inflationary pressures. Investors will closely monitor future developments and upcoming economic indicators for further insights into the Fed's policy decisions.
As the market rollercoaster continues, investors are advised to stay attuned to the latest economic data and central bank announcements to make informed investment decisions.
"Explorer. Devoted travel specialist. Web expert. Organizer. Social media geek. Coffee enthusiast. Extreme troublemaker. Food trailblazer. Total bacon buff."