Business
The News Teller: Bosses Treating Employees Better May Be Driving the Fastest Economic Growth in 3 Years, Illustrated by Starbucks $10 Billion Gain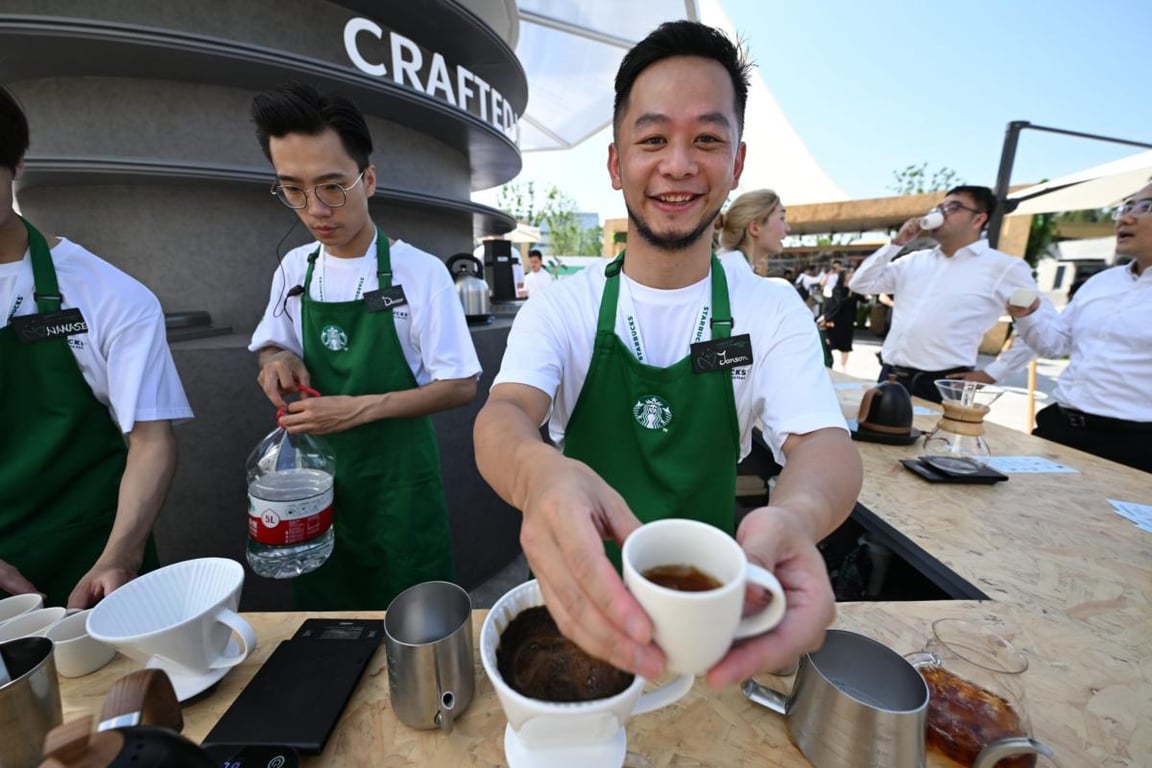 Starbucks Exceeds Earnings Expectations, Sees 12% Increase in Stock
Coffee giant Starbucks has seen a remarkable 12% increase in its stock following the release of its latest earning report, which exceeded expectations for the last quarter. The success is largely attributed to a new plan aimed at improving working conditions and employee performance in stores.
To achieve these impressive results, the company implemented several initiatives. Firstly, Starbucks improved pay and scheduling for its in-store employees. By investing in its workforce, the company aimed to create a positive work environment and reduce employee turnover. Additionally, the coffee chain replaced old equipment, which enhanced efficiency and productivity in its stores.
These efforts to improve the partner culture at Starbucks have evidently paid off, as the company saw strong results across various metrics. Revenue, same-store sales, transactions, and check size all experienced significant growth. This increase in productivity has surprised economists, who note that productivity in the U.S. had been stagnant for years.
Laxman Narasimhan, the CEO of Starbucks since 2022, has been instrumental in improving the company's relationship with its in-store employees. He personally visited stores, underwent training, and even worked as a barista. Moreover, Starbucks implemented a $450 million plan to streamline operations and aid baristas in working more efficiently.
Overall, Starbucks had a strong quarter, with a 12% increase in revenue for fiscal 2023, an 8% increase in global comparable store sales, and a remarkable 10% decrease in employee turnover. Its investments in wages, training, equipment, and new store growth have all contributed to its overall growth and success.
Furthermore, Starbucks' success mirrors broader trends in the U.S. economy, where there has been a recent rise in productivity and hourly wage growth. In fact, overall productivity in the U.S. grew by 4.7% in the last quarter, marking the highest growth rate since 2020.
With the tight labor market in mind, Starbucks plans to open new stores and renovate existing ones in the coming year. Staffing and scheduling will be a priority to ensure that the company maintains its current level of productivity. By 2030, Starbucks aims to have a total of 55,000 stores globally, a goal they hope to achieve through the dedication of happier, higher-paid, and more productive workers.
In conclusion, Starbucks' success in exceeding earnings expectations and driving a remarkable increase in its stock can be attributed to its efforts to improve working conditions and employee performance. The company's investments in its workforce, equipment, and growth plans align with recent trends in the economy, highlighting the importance of efficiency in a tight labor market. As Starbucks continues to expand, it remains committed to creating a positive work culture that fosters success and productivity.
"Devoted bacon guru. Award-winning explorer. Internet junkie. Web lover."