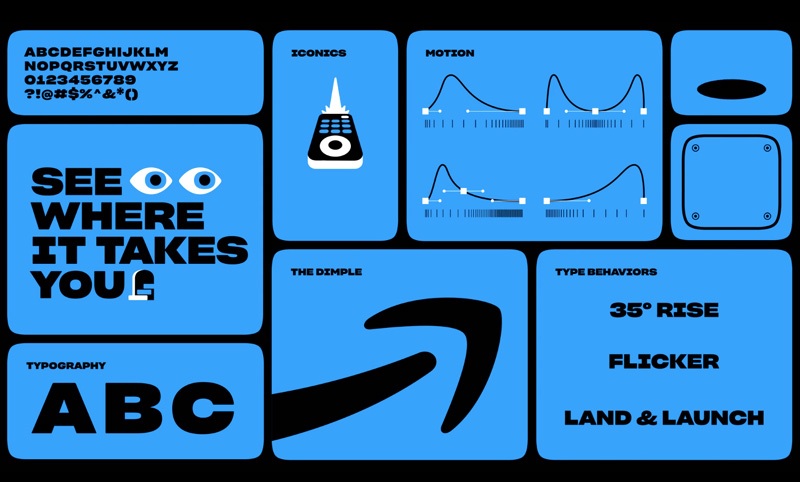 in the past months Amazon Prime Videos He updated his look. The new identity aims to differentiate the video platform in an increasingly crowded landscape.
the Brand update One of the most popular live streaming services in the world, with more than 200 million subscribers, more than half of which are in the US alone. pentagram.
L'an agency An independent design and branding specialist has developed a brand refresh that highlights the impressive range of entertainment and It positions the streaming service as an immersive home for fans of all kinds.
Today users from all over the world can access and enjoy a huge library of movies, series, sports and premium channels. The "dimple" brand uses Amazon's iconic smile – the "dimple" – as a catalyst to move viewers through an endless wave of their favorite content.
Identity launched alongside a redesigned version of the Prime Video app that makes it easier for users to find the content they love.
Feature Amazon Prime Video with a new character
to Distinguish the platformAgainst countless streaming services like Netflix, Hulu, Disney+, and AppleTV+, Prime Video has strived for a cohesive brand identity by highlighting what makes it different from others, helping its original programming shine.
The framework should be flexible in order to be scalable for different types of content, from action to drama, comedy to sports, and Adapting to cultural differences in different global markets.
Another need was associating Prime Video with the main Prime brand, while retaining its distinct personality.
Brand personality Funny, smart and wittyguides viewers through an amazing collection of shows and movies.
Working closely with the Prime Video team, Pentagram helped develop the site with an inclusive visual language that reflects a passion for entertainment and lends itself to all kinds of stories.
Frame Prime Video a Distinctive and attractive appearance Within the Amazon universe, syncing with existing Prime Video elements to create an immersive brand experience.
Familiar elements enrich the playful personality of the brand
With a captivating eye for detail and Joyful and humorousthe rebrand expresses the idea that Prime Video is too tuned and clunky (in its most positive sense) when it comes to entertainment.
ID Use familiar items Branding in a fun and surprising way, the Amazon Smile Arrow is transformed into a distinctive, personalized shape that conveys movement, momentum, and energy.
The curved shape can be cut into distinct sections or used as a picture frame/window. The images are big, bold and explode through the dimple. the color The brand's signature is a bright, contemporary "Prime Blue" taken from the Prime palette.
Pentagram created a file A bold new proprietary typeface In cooperation with Lucas Sharp to Sharp type.
The new customized version of Sharp Grotesk is called Prime Video Sharpstrong and friendly, with multiple weights to fit the Prime family and They support the exuberant tone of the messages.
The font is designed to fit dozens of fun icons, dubbed "Iconics," that can represent different types or create rebus-like abbreviations.
The concept cleverly expands on everything from billboards to social media to animation to TV ads to a GUI (Graphical User Interface).
The designers have developed two distinct visual modes, or "tunnels", for different types of content: Bold and bright Prime Video's signature blue for a touch of pop culture, or Dark and cinematic When things get more serious, sophisticated and dramatic.
Read alsoZoom rebranding: new visual identity and new products
"Bacon trailblazer. Certified coffee maven. Zombie lover. Tv specialist. Freelance communicator."