Economy
Tax exempt recognition forms are available for third sector entities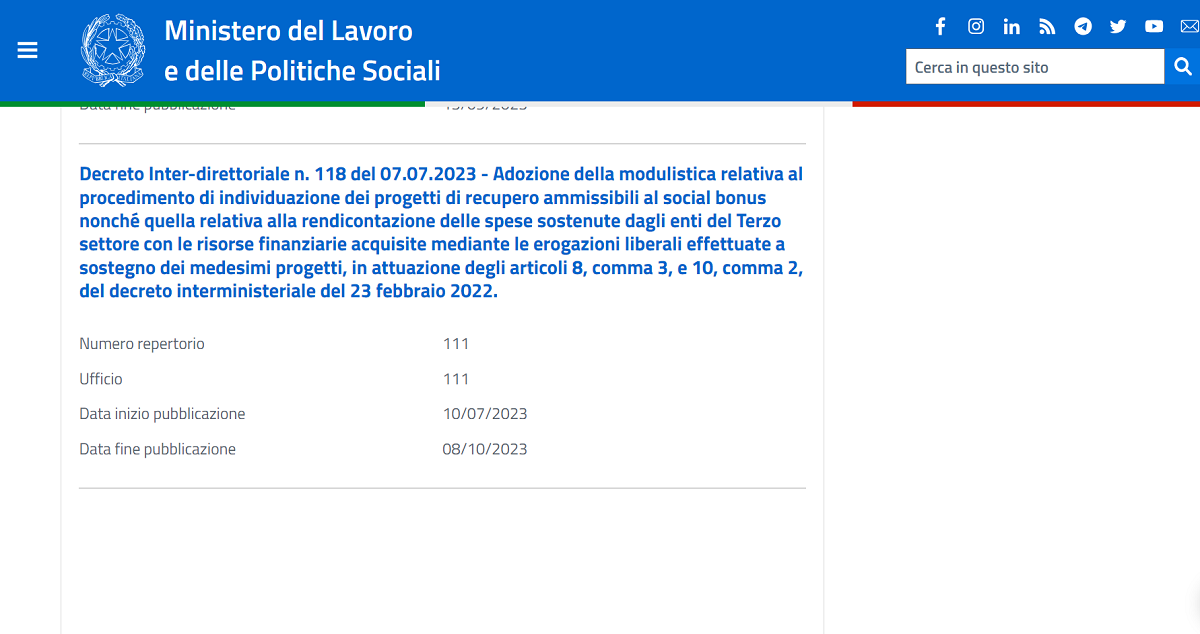 All ready for social rewards to be used by third sector entities. The Ministry of Labor provides all the necessary forms to submit the application. A tax credit of 65 or 50 percent is expected
the third sector bodies Everyone can be reached Forms To take advantage of Social rewards.
with the Decree of July 7in fact, it is Ministry of Labor All agreed Forms necessary, which is made available on the institutional portal.
the ETS extension are eligible for 65 or 50 percent tax relief of donations received and used to achieve projects faces in Recovery affiliate properties Unexploited public funds and movable and immovable property confiscated from organized crime and charged with its implementation Non-commercial activities.
Social Reward: Recognition forms for tax exemption are available for third sector entities
the Ministry of Laborwith the administrative decree n. 118 On July 7th, published on the 10th, it made available to third sector entities all the forms needed to file to request to Social rewards.
It is the facilitation that grants a 65 or 50 percent tax relief from liberal donations to their ETS projects to Recovery affiliate properties Unused general intended for them to conduct Non-commercial activity.
the implementation method of reward with Ministerial Decree of February 23, 2022whose Article 8, Paragraph 3, and Paragraph 2 of Article 10 refer to another provision for adoption Application form.
Therefore, in implementation of these provisions, the new decree allows the concerned authorities i Forms related to the identification process projects to Recovery qualified to Social rewards and related ones Expense report incurred using Donations Receipt for project implementation.
the documents Available on Ministry of Labor portalunder Application Information"Social rewards".
Social Reward: How Facilitation Works
As expected, facilitation Social rewards governed by Ministerial decree On February 23, 2022, published in the Official Gazette last July.
Availability of interest a 65% tax deduction from Donations From the money that natural people make (del 50 percent for those implemented by organizations or companies) for projects that target property recovery general unused and Confiscation of movable and immovable funds of organized crime who have been assigned third sector entities Exclusively for one or more performances activity public interest situation noncommercial.
the details recovery projects It must be determined by a on the counter procedure In order to check the existence of a series of requirements.
Institutions can then submit to requestusing the appropriate Formsfor the project to be recognized for purposefacilitation.
Once the application is approved, ETS must Communication every three months for the total ministry Donations Received in the reference quarter to support the project and Statement of expenses incurred financial resources acquired in this way.
the liberal donations It must be done exclusively through Payment systems Which guarantees it tracking. there causal Moreover, the amount must contain an indication of the social reward, the beneficiary and the purpose of the disbursement.
the Eligible expenses They are as follows:
Design, studies, construction management and safety coordination in the design and implementation phases;
surveys, assessments, and investigations;
regular and extraordinary maintenance, restructuring, static consolidation, and restoration;
Works of arranging spaces outside the structure subject to recovery;
Technological systems and links to public services, equipment, supplies and other supplies of connected and working goods to carry out interventions;
Operating the asset (utilities, building expenses, cleaning, taxes).
the rewards Divided into Three annual installments and the credit tax can be used in compensation in the tax return. The tax credit for natural persons and non-business entities is recognized within limits 15 percent of taxable income and for business income holders within limits 5 per thousand of annual revenue.
Ministry of Labor – Administrative Decision No. 118 dated July 7, 2023

Adoption of forms related to the procedures for identifying recovery projects eligible for social remuneration and reporting on expenditures incurred by third sector entities with financial resources acquired through donations
"Explorer. Devoted travel specialist. Web expert. Organizer. Social media geek. Coffee enthusiast. Extreme troublemaker. Food trailblazer. Total bacon buff."