Sports
Shedeaur Sanders leads remarkable comeback for CU Buffs against rival CSU Rams – The News Teller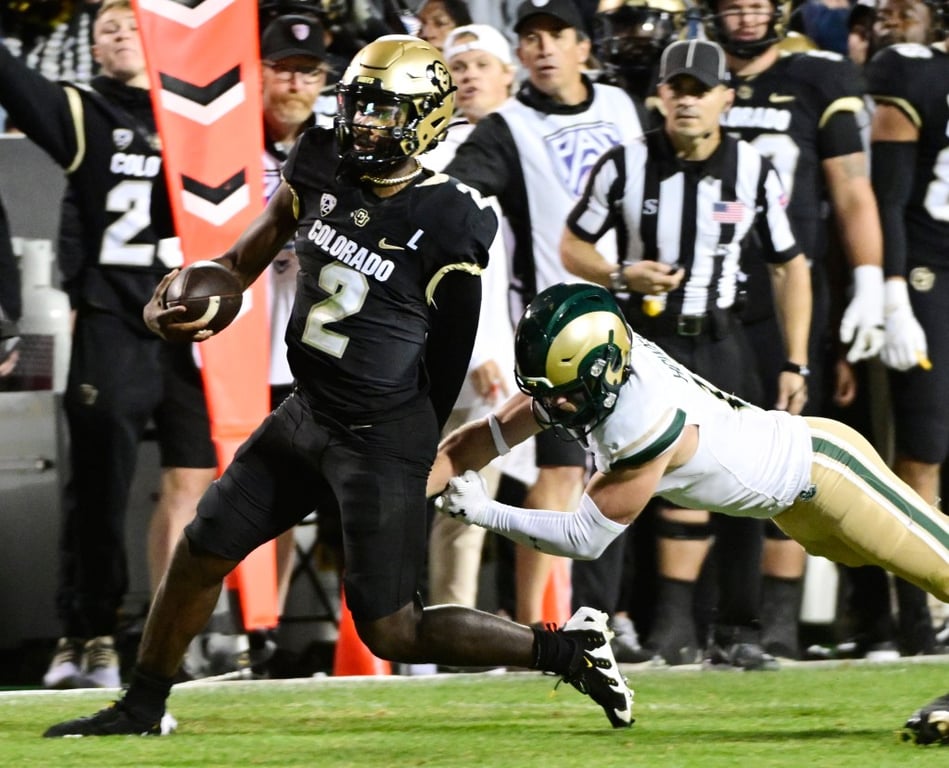 Shedeur Sanders Leads Colorado Buffaloes to Double Overtime Victory
In a thrilling showdown between in-state rivals, the Colorado Buffaloes emerged victorious with a 43-35 win in double overtime against Colorado State. Led by quarterback Shedeur Sanders, the Buffaloes showcased their fighting spirit and determination to secure a hard-fought victory.
Sanders delivered a stellar performance, throwing for an impressive 348 yards and four touchdowns throughout the game. His impact on the outcome was undeniable, as he orchestrated crucial drives and made game-changing plays. His late-game heroics saved the 18th-ranked Buffaloes from what could have been a potentially embarrassing loss.
The game drew national attention, with ESPN's GameDay and Fox's Big Noon Kickoff both filming pregame shows in Boulder. Fans across the country tuned in to witness the intense battle between the two teams. The spotlight on Sanders only intensified as his performance drew comparisons to NFL legends such as Tom Brady, Peyton Manning, and John Elway.
Coach Deion Sanders, Shedeur's father and mentor, praised his son's passion for the game, his dedication to studying the opponent, and his commitment to excellence. It was clear that Shedeur's hard work and determination paid off, as he led the Buffaloes to a crucial victory.
The match unfolded as a true test of resilience and competitiveness for both teams. Colorado entered the game as heavy favorites but found themselves trailing 28-17 in the fourth quarter. However, Sanders led an impressive 98-yard drive to tie the game and force overtime.
Overtime proved to be a nail-biting affair, with both teams displaying exceptional grit and determination. Shedeur's two touchdown passes sealed the victory for the Buffaloes, leaving fans in awe of his skill and composure under immense pressure.
Coach Prime's decision to start on offense during overtime proved to be a strategic move that put pressure on the Rams and forced them out of their comfort zone. The Buffaloes capitalized on their advantage, ultimately securing a hard-earned victory.
The game was a testament to Colorado's fighting spirit and refusal to give up. Fans witnessed one of the best college games in recent memory, with both teams delivering an exceptional performance.
Overall, Shedeur Sanders' leadership and outstanding performance propelled the 18th-ranked Colorado Buffaloes to a memorable double overtime victory against Colorado State. The game showcased the team's resilience, competitiveness, and unwavering commitment to success.
"Infuriatingly humble social media ninja. Devoted travel junkie. Student. Avid internet lover."