On Findus they put gold leaf on sticks: what is needed?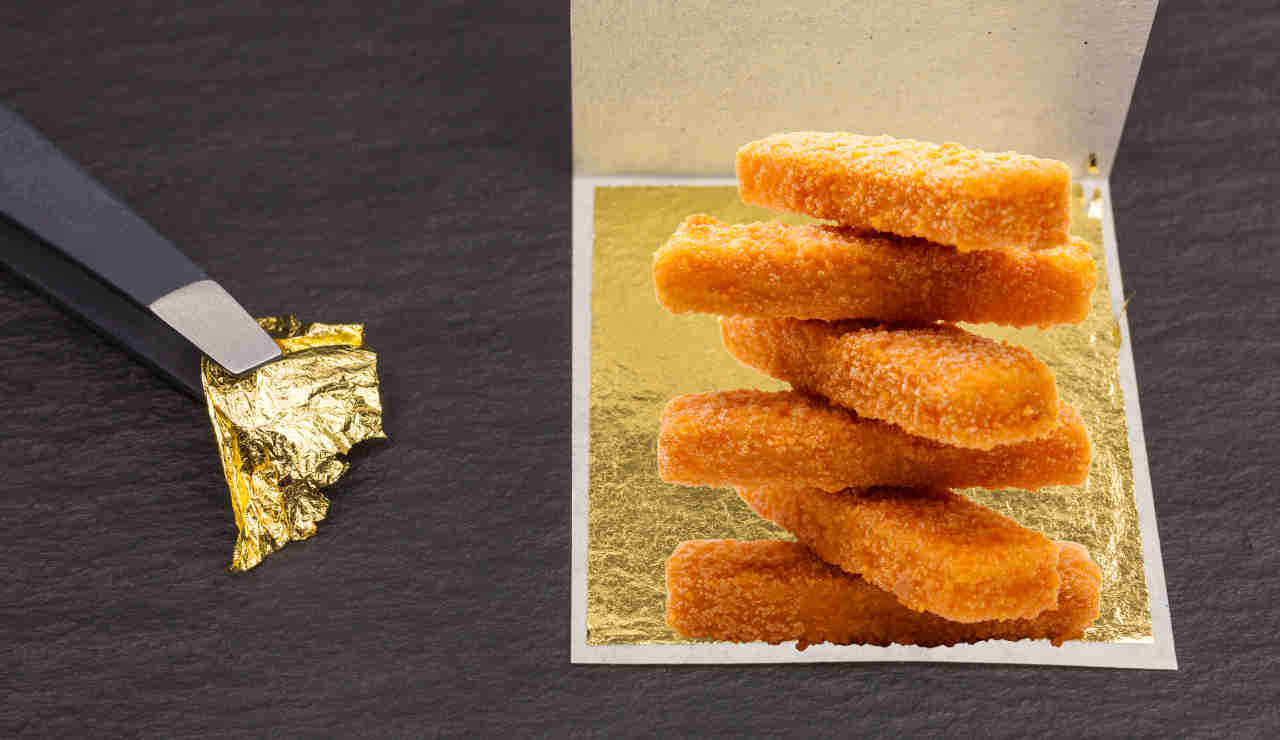 For the "Unexpected Mating" series, the Findus website has a recipe for gold leaf sticks.
the Findus brandBorn in Sweden in 1939, he has always taken care of his image by running communication campaigns with special attention to spreading his brand. In Italy, Findus products will only arrive at the end of the 1950s and will be exclusive to the residents of Rome and Milan. Only after the agreement with Nestle, which began in 1962 and ended in 1985, Findus products were marketed throughout the country.
Findus mainly deals with the production and sale of frozen products, and part of its success is due to the technology of freezing cod, pioneered in the 1920s by an American biologist.
From this technology, one of the brand's iconic products, i.e., was born fish fingersassociated with a shape that has now become a symbol like Captain Findus. Since 1967, the Captain Findus character has promoted the company's brand as a symbol of reliability, efficiency and quality.
This says a lot about the company's concern for the way it communicates with the public, trying to combat the belief that a frozen product is of lower quality and value than a fresh one. Starting with this consideration, one might comment on the decision to post a recipe on their website in which the sticks are served with edible golden flakes.
Findus Sticks and Gold: the unexpected combination
As often happens with brands of food products, manufacturers' websites are full of recipes and advice on how to consume the product, from cooking methods to the most daring combinations. What surprised some users was a recipe posted on the Findus website Sticks with golden black rice and seaweed salad..
A dish rich with refined ingredients, such as the black rice itself or dried seaweed plus, of course, the coveted gold leaf.
What is edible gold?
The Egyptians and Romans already used to decorate dishes with gold dust as a symbol of wealth and prosperity. In some historical periods, it was believed that gold could be useful for Cardiac circulation.
About 20 years ago, thanks to rIsoto Gold and Saffron by Gualtiero MarchesiGold is back in vogue for decorating dishes, especially sweets and cakes. Also because theEdible gold, Like silver, it is completely tasteless and its effect is purely visual. However, it is an edible product whose composition is regulated by Italian law, which is classified as a food coloring agent, and consists of pure gold of 23-25 ​​carats.

"Explorer. Devoted travel specialist. Web expert. Organizer. Social media geek. Coffee enthusiast. Extreme troublemaker. Food trailblazer. Total bacon buff."