Business
Hotel Cleaner with 14 Years Experience Reveals Guests Outrage over Dirty Rooms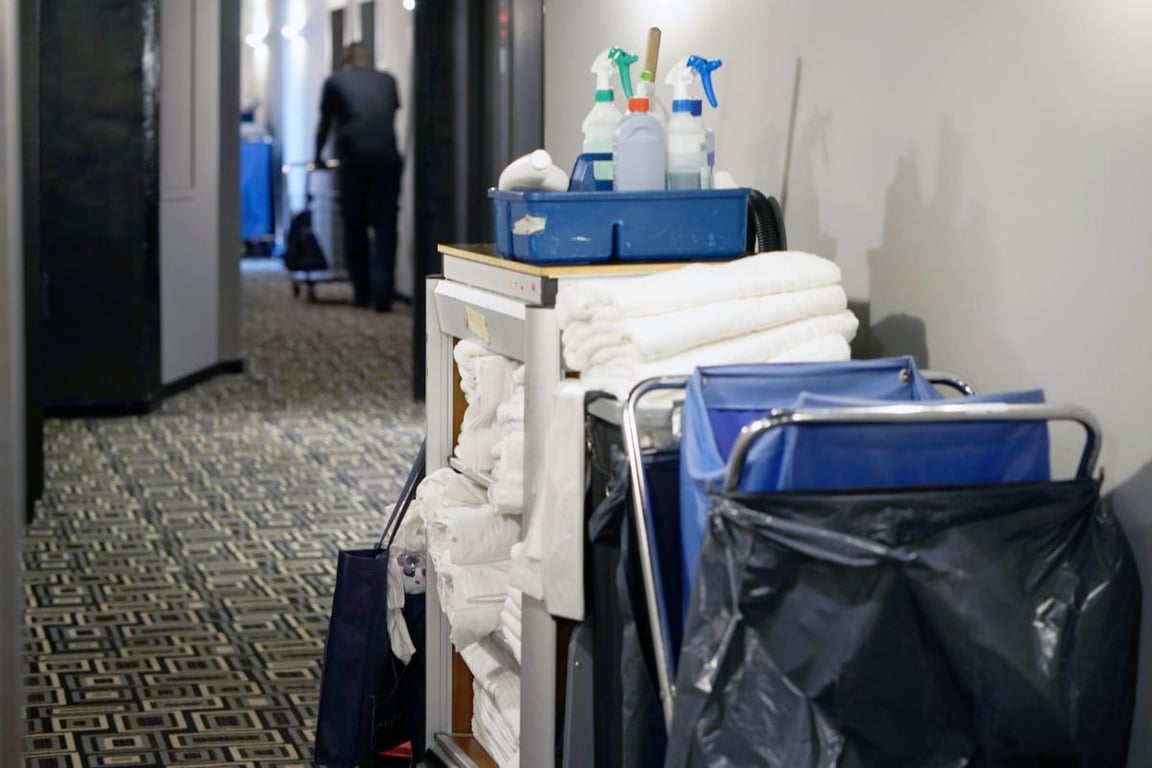 Title: Housekeepers Highlight Safety Concerns Over Daily Cleaning Issue at Las Vegas MGM Hotel
Las Vegas, Nevada – In a recent revelation at an MGM hotel in Las Vegas, housekeeper Xochitl Mendez has shed light on the pressing issue of cleanliness as a safety concern for both employees and guests. Mendez's account brings attention to the growing anger and insults faced by housekeepers when rooms are not cleaned on a daily basis.
Many frustrated housekeepers, including Mendez and her colleagues, have resorted to reporting angry guests to hotel security, but their pleas often go unanswered. As a result, the Culinary Union, representing housekeepers, laundry attendants, bartenders, and servers, has voted to authorize a potential work stoppage in order to address this persistent issue.
Among the demands raised by the housekeepers are panic buttons for increased security, minimum staffing levels to alleviate the workload pressure, higher pay to reflect the responsibilities, and mandatory daily housekeeping. Mendez has further recounted instances where guests have been seen carrying firearms, which adds to the fear and apprehension of confronting angry individuals.
MGM Resorts, however, has assured the public that the safety of employees and guests remains their top priority, with firearms banned from all their properties. Virginia Valentine, the head of the Nevada Resort Association, has argued that while they understand the concerns, daily housekeeping will still be available upon request for guests.
The hotel industry, despite the lingering effects of the pandemic, has experienced a strong recovery with increased room rates and occupancy levels. Hotel workers claim that infrequent cleaning not only results in messier rooms but also takes a toll on the housekeepers themselves.
The issue of daily cleaning has sparked debates and become political in other regions as well, notably in Washington, D.C., where a temporary law mandating daily cleaning was passed last year. Responding to the concerns, Hilton has announced plans to implement more frequent housekeeping starting this fall. However, it is worth noting that the company still employs 8% fewer workers globally compared to 2019.
The Culinary Union asserts that it is unacceptable for companies to realize record profits while reducing the frequency of daily cleaning. As hotels nationwide continue to see surging profits, it remains crucial to find a viable solution that prioritizes the well-being of both employees and guests.
In an effort to ensure overall safety and promote a more comfortable environment within the hospitality industry, workers argue that addressing the issue of daily cleaning is of utmost importance. With ongoing discussions and potential work stoppages, it is evident that the demands of housekeepers cannot be disregarded.
"Devoted bacon guru. Award-winning explorer. Internet junkie. Web lover."