Economy
Grants and subsidized loans to Italian companies operating abroad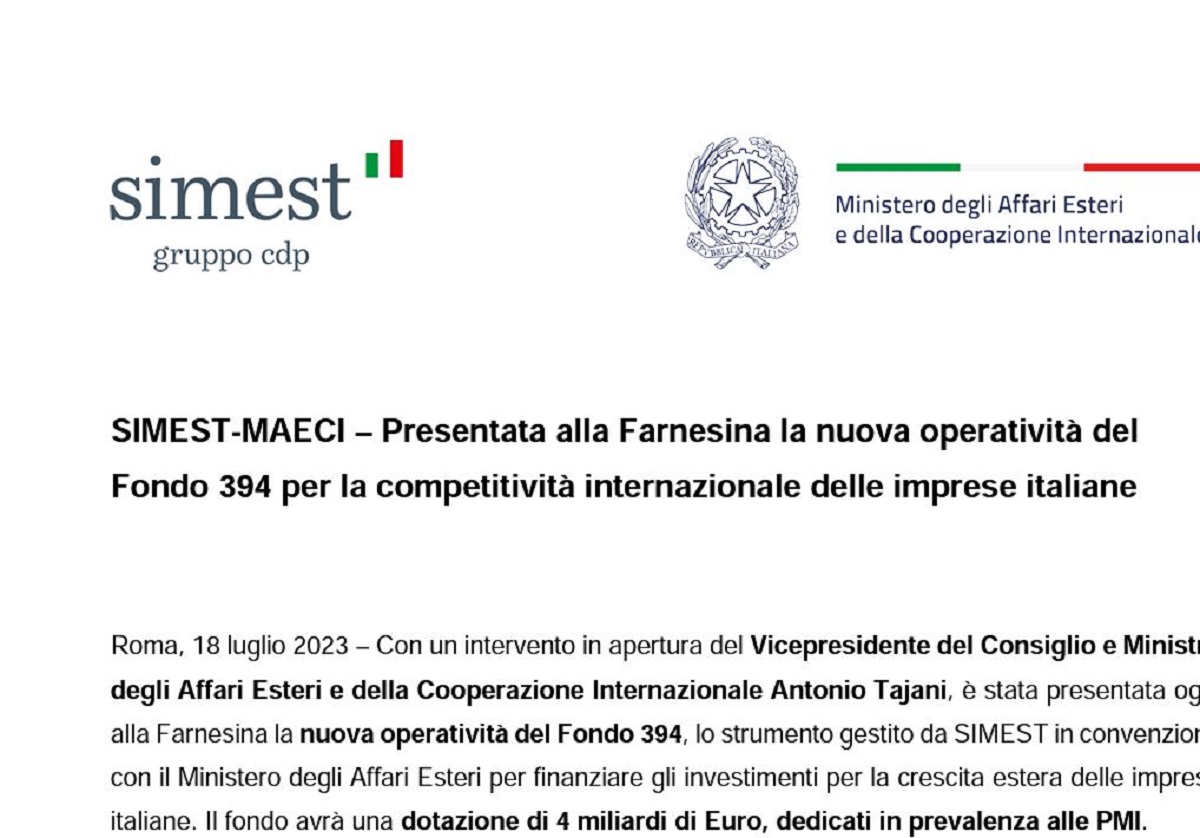 New non-repayable grants and subsidized loans for Italian companies operating in foreign markets have been published, according to the Simest Circulars
Operating Circulars No. 3, 4, 5, 6, 7 and 8 of Simest SpAa subsidiary of Cassa Depositi e Prestiti Group.
These are interventions Revolving Fund No. 394 which provides important support in terms of Grants and non-refundable loans at highly subsidized rates to Companies operating in foreign markets That is, those companies that are already abroad and intend to strengthen themselves but also companies that are about to start a new business abroad, exporting goods and services from Made in italy.
At the same time, Simest officially reports the launch of the submission of support requests, valid for the interventions envisaged in the aforementioned circulars, starting from From 9.00 on July 27, 2023.
Also announced was the decision according to which the Company's Support Committee launched an operational cooperation with the national banking system in order to facilitate the access of SMEs to the subsidized interventions of Fund 394/81.
All the simpler privileges referred to in the circulars include:
a Subsidized fixed rate loanwith a repayment period of 4 years and a grace period of 2 years;
a Non-refundable contribution Up to a maximum of 10% of the subsidized intervention amount.
Tax information specialists can assist you in the pre-viability analysis of the project and in the preparation and submission of the application. Fill out the form to request more information:
FUND 394/81 – Circular No. 3/394/2023 Simest SpA

Grants and Subsidized Loans – Entering Foreign Markets
FUND 394/81 – Circular No. 4/394/2023

Non-repayable grants and subsidized loans for environmental and digital transformation
Box 394/81 Publication No. 5/394/2023

Low-interest loans and non-refundable grants for the organization of trade fairs and events for Italian companies abroad
FUND 394/81 – Circular No. 394/6/2023

Intervention supported by "e-commerce" through subsidized loans and non-repayable contributions from Simest SpA (Cassa Depositi e Prestiti)
FUND 394/81 – Circular No. 7/394/2023

Low interest loans and grants for certification and consultancy to internationalize the company
Circular Box 8 394

Facilitative intervention for the temporary admission of temporary managers in the company, in order to realize technological, digital or environmental innovation projects, to support the internationalization of the company in international markets. The temporary placement of temporary managers is governed by a temporary management contract entered into exclusively with a third party service company
"Explorer. Devoted travel specialist. Web expert. Organizer. Social media geek. Coffee enthusiast. Extreme troublemaker. Food trailblazer. Total bacon buff."