Tech
GeForce RTX 4090 laptop vs 4090 desktop: are they the same? No, some tests to clarify
In the past few weeks, some laptops with NVIDIA GeForce RTX 4000 Laptop GPUs. More precisely, we received Gigabyte Aorus 15 BSF, MSI Raider GE78 HX 13V, and ASUS ROG Strix SCAR 17 equipped laptops, respectively. GeForce RTX 4070 Laptops, 4080 Laptops, and 4090 LaptopsAll in its best form.
Behind these names, enthusiasts know very well that they exist Various specifications of similarly named desktop video cardsBut we can't assume that everyone knows that. So we thought, despite some platform differences affecting results, to Understand what the actual performance differences are between desktop and laptop models.
How many frames per second does the GeForce RTX 4090 laptop leave on the street compared to the top of the range desktop? Before moving on to the tests and trying to answer this question, let's talk about the technical specifications of the different incarnations, in order to establish some firm points. Let's look at the following table:
| | | | | | | | |
| --- | --- | --- | --- | --- | --- | --- | --- |
| | GeForce RTX 4090 | GeForce RTX 4080 | GeForce RTX 4070 Ti | The GeForce RTX 4070 card | GeForce RTX 4090 laptop | GeForce RTX 4080 laptop | GeForce RTX 4070 laptop |
| graphics processing units | m 102 | m 103 | M 0104 | m 104 | m 103 | m 104 | m 106 |
| koda core | 16384 | 9728 | 7680 | 5888 | 9728 | 7424 | 4608 |
| RT cores | 128 | 76 | 60 | 46 | 76 | 58 | 36 |
| Core tensioner | 512 | 304 | 240 | 184 | 304 | 232 | 144 |
| Base/Batch hours | 2235/2520MHz | 2205/2505MHz | 2310/2610MHz | 1920/2475MHz | up to 2040MHz | up to 2280MHz | up to 2175MHz |
| memory | 24GB GDDR6X 21Gbps | 16GB GDDR6X 22.4Gbps | 12GB GDDR6X 21Gbps | 12GB GDDR6X 21Gbps | 16GB GDDR6 18Gbps | 12GB GDDR6 18Gbps | 8GB GDDR6 16Gbps |
| bus | 384 bits | 256 bits | 192 bits | 192 bits | 256 bits | 192 bits | 128 bits |
| TGP extension | 450 watts | 320 watts | 285 watts | 200 watts | up to 175 watts (150 watts + 25 watts) | up to 175 watts (150 watts + 25 watts) | up to 140 watts (115 watts + 25 watts) |
Desktop GeForce RTX 4090 has 68.4% more CUDA, RT and Tensor cores than laptop RTX 4090 And it has 8GB larger memory, even faster. The bus is also wider and the TGP is much higher. The GeForce RTX 4090 laptop has some similarities to the GeForce RTX 4080 desktop, with some differences in terms of clock and TGP. The GeForce RTX 4080 laptop and the GeForce RTX 4070 laptop are stand-alone configurations, different from the desktop models.
From the RTX 4070 laptop to the 4080 laptop, about 60% of the computing resourcesto which is added the memory part with a capacity of 4 GB more and with increased loads. From RTX 4080 laptop to RTX 4090 laptop, the jump in compute units is 30% To which, also in this case, we add a larger and wider memory.
Laptop Solutions Limited by TGP To fit into a laptop bag. The cooling system in laptops is not only thin, but also closely related to the CPU system. At the top of the laptop base is an impressive array of hardware that needs cooling, while on desktop computers the two components are managed by separate heatsinks and of completely different caliber.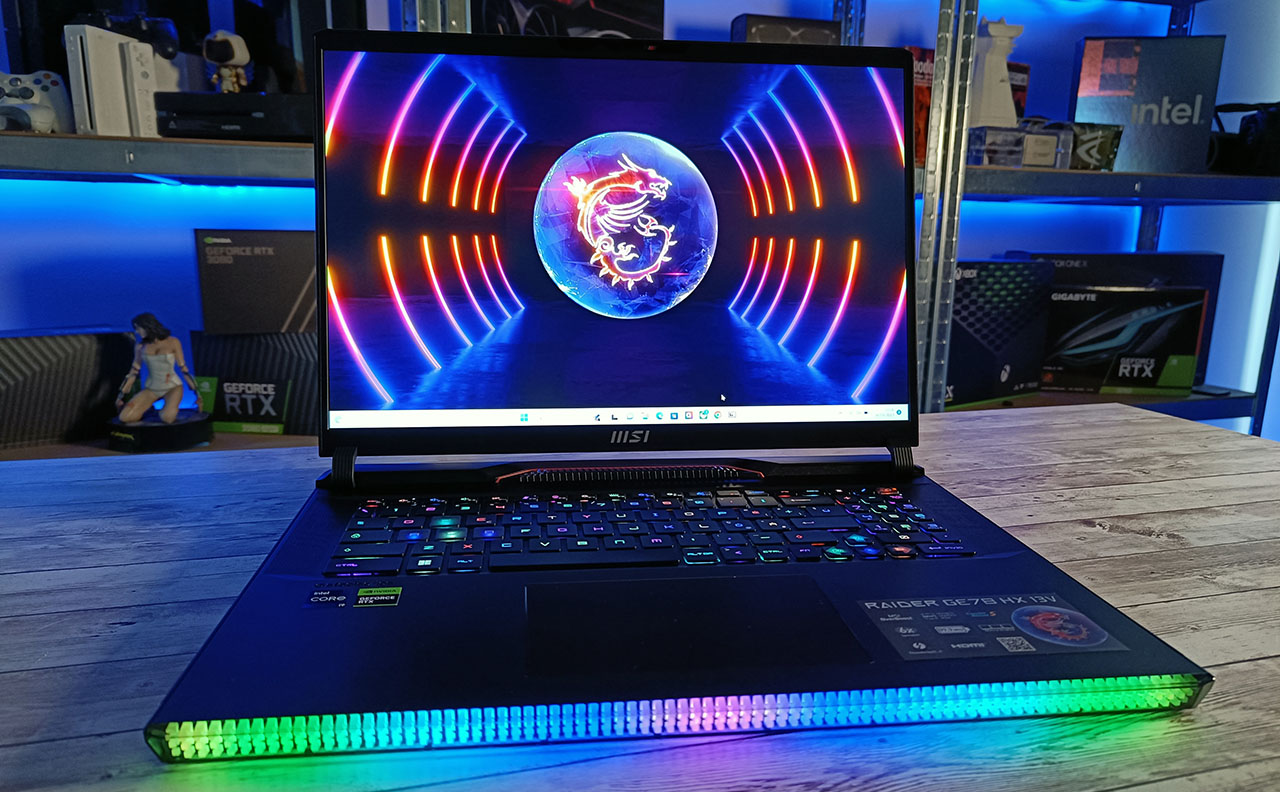 Highlighting the differences in the field, we ran some desktop GPU testing with a Core i9-13900K system and 32GB of DDR5-5200 memory. The processor has 16 cores and 24 threads, can accelerate up to 5.8GHz, and has a PBP of 125W and MTP of 253W.
As for laptops, since we could not test GPUs on a similar platform, we had to rely on the hardware provided by the laptops that arrived at the editorial office, so we want to emphasize that an approximation of the results should be taken into account. Calculation, we don't want to sell you a 100% accurate number, we do want to sell you an overview, although we hope it's as accurate as possible.
The ASUS ROG Notebook PC features a Ryzen 9 7945HX processor and 32GB of DDR5-4800 memory. Ryzen 9 7945HX is a processor with 16 cores and 32 threads, dubbed Dragon Range, based on Zen 4 architecture, and is capable of touch in 5.4GHz max boost mode. The processor comes with a cTDP of 55-75W.
The MSI laptop we tested used the RTX 4080 instead, and it features a Core i9-13950HX and 32GB of DDR5-5600 memory. The Intel CPU offers 24 cores (8 P-cores + 16 E-cores) and 32 threads and is capable, on paper, of acceleration up to a frequency of 5.5 GHz. The processor has a PBP of 55W and an MTP of up to 157W.
This is a Gigabyte AORUS with an RTX 4070 laptop, finally, a Core i7-13700H and 16GB of DDR5-4800 memory. The Intel processor has 14 cores (6 P cores and 8 E cores) and 20 threads capable of acceleration up to 5GHz on 2 P-cores and features a PBP of 45W, which can briefly reach 115W in MTP .
NBFor completeness we tested configurations at 1080p, 1440p and 4K, in the case of laptops using the integrated screen where the resolution allows, however, the difference between platforms has a clear specific weight and for this beta test advice is Focus on 4K resolution which shifts the load more to the GPU.
Comparison of GeForce RTX 4000 laptops and desktops
Let's start from Metro Exodus, where in 4K The RTX 4090 laptop is close to the RTX 4070 Ti desktop. As can be seen by looking at the table, if it is true that the chip has seemingly similar capabilities to the desktop RTX 4080, on the other hand, there are parameters such as slower memory, TGP and frequency that impair performance.
Shadow of the Tomb Raider and Hitman 3 paint a similar picture, as do Borderlands 3, Far Cry 6, and Flight Simulator.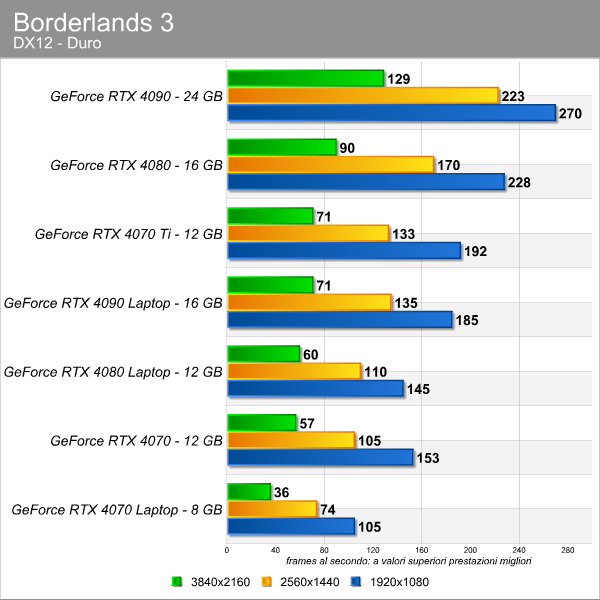 However, there are games like Cyberpunk 2077, Forza Horizon 5, The Riftbreaker, and F1 2022 where The RTX 4070 Ti and RTX 4090 are two places for the laptop.
As for other solutions, we can say so GeForce RTX 4080 Laptop and GeForce RTX 4070 Desktop Have Similar Firepowerwhile the GeForce RTX 4070 laptop is far ahead of its time and, in our opinion, could have the RTX 4060 desktop performance in the future – but that's just an untestable guess at the moment.
Let's sum up
The following graph shows us the average performance of 10 tests that were taken Like desktops, the GeForce RTX 4090 and 4080 are a class above their laptop counterparts., while the GeForce RTX 4090 laptop competes with the RTX 4070 Ti. Desktop GeForce RTX 4070 and laptop GeForce RTX 4080, in turn, provide similar performance.
If we look at the differences between laptop models, again in 4K, from 4070 to 4080 there's a jump of 60% and from 4070 to 4090 it's almost 100%, which are values Track the differences in terms of units. From the RTX 4080 laptop to the 4090 laptop, the jump was just over 20%.
From GeForce RTX 4090 Laptop to RTX 4090 there is a performance jump of 66%, from GeForce RTX 4080 Laptop to RTX 4080 the jump is 47%, while from RTX 4070 Laptop to RTX 4070 there is a gap of 59%.
We repeat, this is a beta test, are tests that we did primarily for self-interest, and which we share because, in any case, we thought they might be interesting. On the other hand, the performance difference between a desktop and laptop platform is pretty obvious at 1080p and 1440p, and although it's mitigated by 4K, the platform can have some dent even at this juncture.
So what enthusiasts have known for some time is reaffirmed: NVIDIA's mobile GPU names don't match those of their desktop counterparts. Among other things, always in the mobile sector, NVIDIA allows manufacturers to play widely with the TGP of GPUs to adapt them to thinner designs, so with a TGP that can be tuned between 80 and 150 watts, the RTX 4090 on a laptop It does not necessarily behave like the same GPU in another design, as frequencies can be reduced by several hundred megahertz.
Finally, We'd like to see a clear brand differentiation between desktop and mobile solutions, or names that more closely reflect actual performance offered to laptop buyers. It would no doubt be more correct to call the RTX 4090 laptop with the 4080 branding, even if the performance is lower as we've seen. On the other hand, the name chosen did not fit the bill.
Our hopes will likely remain that way and we will have nothing left but, generation after generation, to warn users of the stark differences between desktop and laptop GPUs.
"Bacon trailblazer. Certified coffee maven. Zombie lover. Tv specialist. Freelance communicator."