Technology
Dell unveils a groundbreaking touch display with transformative capabilities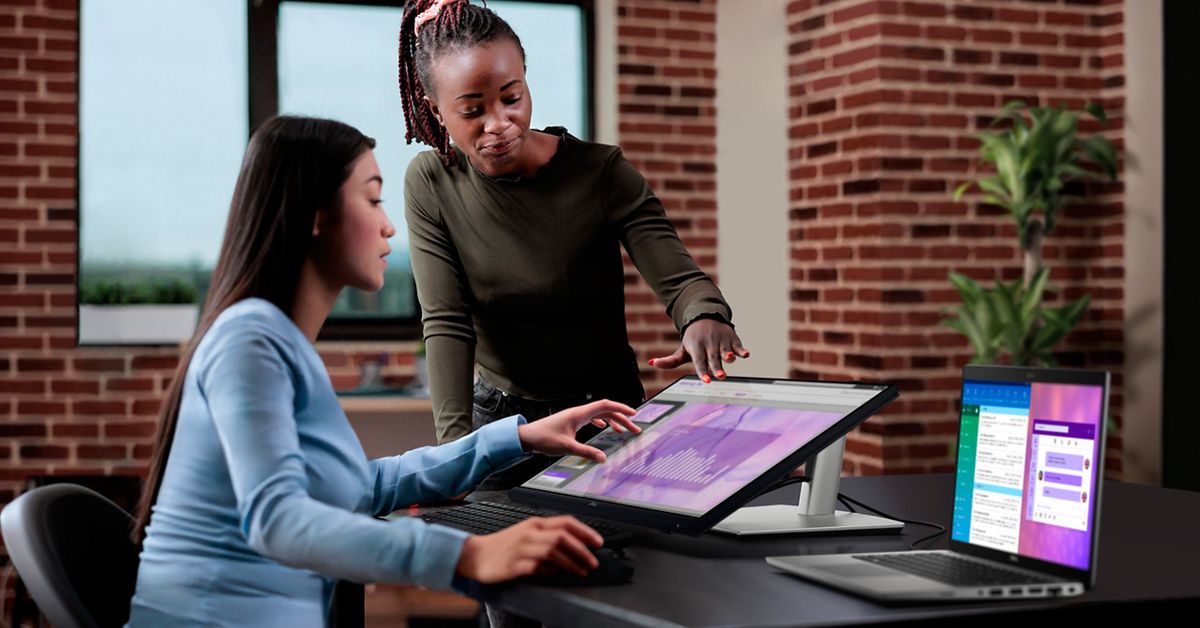 Dell Unveils New Affordable Touchscreen Monitor with Tablet Capabilities
Dell has recently announced the release of their latest addition to the monitor market, the Dell 24 Touch USB-C Hub Monitor. This innovative device not only serves as a regular monitor but also transforms into a fully functional touchscreen tablet, making it a versatile option for various settings including retail and warehouse environments, as well as homes and offices.
Taking design inspiration from Microsoft's Surface Studio computers, the Dell monitor features a sleek design with touchscreen capabilities and articulating stands, providing users with flexibility and ease of use. What sets this monitor apart from its competitors is its affordability, with a price tag of $519.99. In comparison, the Surface Studio 2 Plus all-in-one starts at a whopping $4,299.
The Dell 24 Touch USB-C Hub Monitor boasts a 24-inch size and a 1080p resolution, delivering sharp and clear visuals. One noteworthy feature of this device is its Ethernet port, which makes it the first-ever 23.8-inch touch monitor to offer Ethernet connectivity. This addition enables seamless and stable internet connectivity, especially in office and work environments.
It is important to note that the Dell monitor requires an external laptop or desktop computer to function. However, it is compatible with both Windows and macOS, allowing users from various operating systems to enjoy its benefits. Linux users, unfortunately, are limited to 3-point touch functionality. Additionally, the monitor provides a substantial 90W of power through its USB-C port, ensuring fast and efficient charging.
In terms of connectivity options, the Dell 24 Touch USB-C Hub Monitor does not disappoint. It comes equipped with various ports and connectors including HDMI, DisplayPort, USB-A, USB-C downstream, audio line-out, and Ethernet. This versatile range of connectivity options allows users to easily connect other devices and accessories, enhancing productivity and convenience.
While the monitor's specifications as a display may be considered average, featuring a 1080p IPS LCD panel and a 60Hz refresh rate, it still offers a commendable visual experience. Additionally, it includes a built-in 3W mono speaker, ensuring audio quality is not compromised.
With its affordability, touchscreen capabilities, and innovative features, the Dell 24 Touch USB-C Hub Monitor is expected to appeal to a wide range of users, from professionals in retail and warehouse settings to individuals seeking a reliable and versatile monitor for their homes and offices. This latest release by Dell solidifies their commitment to providing high-quality products at reasonable prices, making advanced technology more accessible to everyone.
"Bacon trailblazer. Certified coffee maven. Zombie lover. Tv specialist. Freelance communicator."