Mango (Aam) is the King of all the fruits. Mango is one of the most popular and healthy fruits with more tasty flavors, fragrance and taste. It is very nutritious fibrous fruit. The wide variations among the seedling progeny have been responsible for the evolution of several choice varieties of mangoes in Pakistan which have been further multiplied by effective and large-scale vegetations. These varieties have thus been called as "Horticulture Varieties". That is how a large number of standard varieties have come onto being and is cultivated in the different parts of Pakistan. The nomenclature for these myriad of varieties of mangoes, is perplexing to remember. There are 450 knownVarieties of Mangoes in Pakistan. The prominent ones are the following:
"Langra Aam", having size medium to large, ovate, base round to slightly flatten, shoulders equal. Beak minute but distinct, sinus slight to absence, skin green and thin, flesh fibreless, yellowish brown in color, scented, highly melting, very sweet. It's season is (Early to mid Season). 1st to 3rd week of July. Heavy yielder.
"Aman Dusehri" derives its name from village between Lucknow and Malihabad where it was originated as a superior chance seedling. It's size is small to medium, oblong, ventral, shoulder higher than dorsal, beak and sinus absent, color yellow when ripe, skin thin, pulp fibreless, flesh firm, very sweet, flavor nice. It's ripening season is mid July.
"Sammar Bahisht" has originated as a superior chance seedling in Muzaffernager U.P. It got its name because of its pleasant flavor. Fruit medium, base slightly flattened, shoulders equal, sinus very light, beak point prominent, skin greenish yellow, thin, pulp yellow, very sweet, sparsely fibrous, flavor pleasant to delicious. It's ripening season is July-August.
"Fajri Kalan" has originated as superior chance seedling in Bihar and gor its name after the name of lady Fajri who selected and brought up its trees. Size big, oblong, obliquely oval, base rounded, shoulder unequal, with ventral higher than the dorsal, beak distinct, sinus very shallow with rounded apex.
"Muhammad Wala" ,having size small to medium, skin thick, yellow brown, pulp sweet, juicy, stone medium sized, fiber very little. It has a ripening season early August.
"Chaunsa" is originated as choicest seedling in a village Chausa in Malihabad, Tehsil of Lucknow. It is also known as "Kajri" or "Khajri".It's juice moderately abundant. Fruit's size is from medium to large ovate to oval, base obliquely flattened. Fruit quality is good, bearing heavy, keeping quality medium to good. Ripening season in August (late). Chaunsa are the world's largest mango cultivators,grown in mango orchards.
"Anwar Rataul " has originated as a chance seedling in "Shohra-e-Afaq" Garden in Rataul. Now it has become popular in mango growing areas of Punjab because of its high flavor. Ripening season in July (Mid-Season). Keeps well in storage.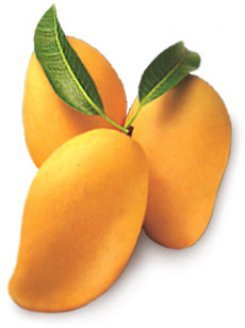 "Sindhri Aam" is a leading variety of Sindh. It's skin color is lemon yellow when ripe. Surface smooth. Pulp color Yellowish cadium. Texture fine and firm fibreless. It's flavor is pleasantly aromatic, taste sweet.
Punjab holds 67 percent of the total area(mango orchards) and produce about 80 percent of the entire mango produce in Pakistan,compared with the remaining mango orchards located in Sindh, contributing the remaining 30 percent. "Chaunsa" and "Sirhindi" are considered as having great potentials in the international markets. Nevertheless, the production of medium-sized mangoes is most sought after abroad. Pakistan has also begun its commercial export of the mangoes to US, world's biggest market for mangoes, starting with a smaller shipment. With the European Union (EU) ban on India's prized Alphonsos, known as the "King of Fruits", has presented Pakistan with a chance to widen the gap, between India and Pakistan, contesting over the volumes of mango exports. According to respective official figures, Pakistan last year exported around 100,000 tons for a revenue of $48.6 million over India's 56,000 tons for $44.6 million.
In order to attract the importers from the international market, the government has always been arranging exhibitions and festivals in different parts of the country such as 'Sindh Mango Festival' and 'National Annual Mango exhibition' and 'Punjab Mango Festival' . In these festivals, a considerable range of varieties have been brought to enhance the temptation. The farmers are also motivated and encouraged to bring the best they cultivated, by the government, as it puts them into a type of contest, and the farmer with the finest product is given the prize.
Most of the farmers get concerned about various pests, such as the Mango Hopper that sucks the cell sap from tender shoots, Mango Thips that cause similar harm, Mango Shoot Borer that feeds on the inside stem, and Mango Scales that besides sucking sap also inject toxic substance into the plant. Then there's the Mango Mealy Bug that crawls on leaves, shoots and stems, and Mango Fruit Fly or maggots that feed on the fruit pulp, posing a major threat to mango trees. All these pests have a particular time of peak activity, like the fruit fly is a problem in June. Fruit fly has already caused major damage to their mango produce in the previous years. Few farmers are interested in exporting to European countries, relying mainly on conventional exporters and therefore do not employ sophisticated procedures to take care of their orchards – most farmers outsource their farms to contractors for two to five years under an agreement. After that, it's the contractor's headache to look after orchards. They are being encouraged by the Government to opt for 'progressive' mango farming if they want to fetch a better price for their crop. More technical methods for farming are being used as a result, such as 'high density mango farming' which controls the space between and height of mango trees. Similarly, horticulture experts from foreign countries are providing technical assistance to the agronomists of Sindh and Punjab governments to develop disease-free varieties of mangoes, with high nutritive value.
Other factors crucial in the production of mangoes in Pakistan are the prevailing weather conditions. The erratic weather patterns have also affected the vegetation and ripening of full-fledged mango crop. Hail storms, floods, late arrival or lessening volumes of required rain fall can cause detrimental effects to the development. Officials in the Pakistan Horticulture Development and Export Board (PHDEB) have also been voicing their concerns regarding a delay in crop's arrival, due to weather conditions, which ultimately affects the mango exports. Pakistan produces over 1.75 million tons of mangoes out of which only 5 to 8 percent, 127,000 tons are exported . Still, Pakistan is the 3rd largest exporter and 5th largest consumer of the mangoes in the world, despite the fact that our entire exports of the total produce .Employing sophisticated internationally-standardized technology in the farming methods , are still lacking to create a major leap in the export of mangoes. hinges around 5 to 8 percent. but with due consideration, we can boast of becoming world's largest exporter in the world.
Prepared by Umair Zahid & Mujahi Ali