Top News
Avia takes delivery of Australia's first Tecnam P-Mentor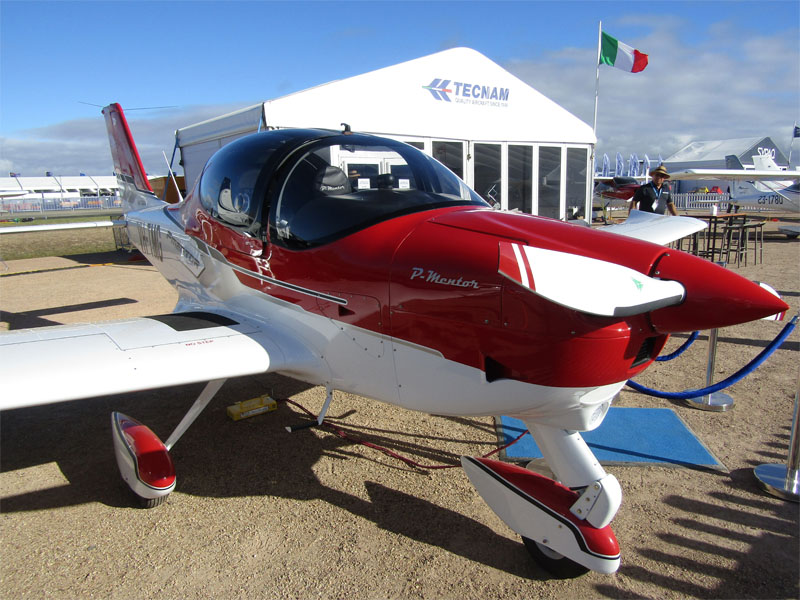 Avia Air (Avia) received the first Tecnam P-Mentor in Australia. Avia is a Part 141 training organization that provides customized training solutions, including instrument assessments and commercial pilot training. In business for 12 years, the company also has a Part 135 charter operation.
During the handover ceremony at the Avalon Airshow, Walter De Costa, Sales Director of Tecnam, said: "The P-Mentor is the only two-seat trainer aircraft IFR, FAR/EASA. It is technologically advanced, safe and easy to fly, with the option of a ballistic parachute for the aircraft. It allows flight schools to take the student from start to commercial license and pilot class at a fraction of the acquisition and operating costs of competing aircraft. The P-Mentor attracted a lot of interest at the airshow and we expect to announce more sales in Australia soon."
"During a visit to the Tecnam factory last year, the P-Mentor really caught my eye, as the ideal trainer for the pilots of tomorrow," said Avia CEO Charles Gunther. "It has stunning looks, a sports car interior and the best Garmin avionics package a student could ask for." "Operating a Tecnam fleet can save up to 10 tons of CO2 per graduated commercial pilot, which is increasingly important to all of us. This is the first of many Tecnam aircraft that we will offer our students."
Michael Loccisano, CEO of Hallmarc, which sold the P-Mentor, said: "We are delighted that such a leading and prestigious flight school as Avia has chosen the Tecnam fleet. We expect to see more flight schools adopt the P-Mentor as an attractive, economical and environmentally friendly fleet."
"the P Mentor It is a two-seat, single-engine, piston, all-IFR aircraft, compliant with the latest CS-23 EASA and FAA requirements, enabling PBN/RNAV/AFCS capabilities. It provides today's flight schools with a single platform to train students from their first flight, through to commercial pilot license and instrument assessment. Tecnam says it has a variable-pitch propeller and a simulated retractable landing gear option
"the P Mentor It is designed to offer the best human-machine interface, resulting in more effective VFR/IFR training. The generous fuel tank allows the flight schools to fly all day, without refueling. Low maintenance cost, low fuel consumption and excellent value for money make this aircraft a unique earning opportunity for flight schools," concludes Tecnam.
(Tecnam Press Office – Image credits: Tecnam)
"Devoted bacon guru. Award-winning explorer. Internet junkie. Web lover."